Duffield Players from the Past
Since its earliest days, Duffield LTC has nurtured and developed many county and performance players - including one Wimbledon boys' champion.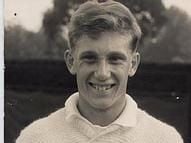 Leonard West and GF Fletcher (county players); Norman Marshall (county player); Charles Holloway;
Miss Mabel Smith; Jack Peacock; J.G. Clayton
Noted ladies
Miss P Hird, Wightman Cup & county player
Honor Durose, GB Ladies, won Wimbledon Junior Mixed Doubles, and county player
Pauline White, played for the county 300 times;
Mrs A Bemrose, played for the county 148 times
Margaret Robinson, played for the county 95 times
Other county ladies players and trophy-winners:
Miss C. Durose; Miss P. Goodall; Mrs. J. Haynes; Mrs. J. Marsden; Mrs. R Grave; Mrs. J Thompson

Noted gentlemen
Peter Cross, RAF champion 1951 and played 259 times for Derbyshire
Roger Faulkener, Junior Wimbledon finalist and played for the county 50 times.
Jimmy Tattersall, 86 appearances for the county
Won Wimbledon Junior Boys' Singles 1957,
Won Wimbledon Junior Boys' Doubles 1956 & 1957,
Won Wimbledon Junior Mixed Doubles 1956 with Honor Durose of Duffield.
Tony Pickard played on the ATP men's singles, doubles and mixed tours
Captained GB Davis Cup team
Played 107 times for Derbyshire
Coached Stefan Edberg.
Clive Johnson, played for Derbyshire 102 times,and was county captain.