Jimmy Tattersall - Wimbledon Boys' Singles Champion, 1957.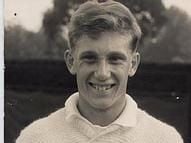 Jimmy Tattersall of Duffield, Derbyshire, stands alongside some more famous tennis names on an equal footing, at least for a 'moment in time'. Winning the Wimbledon Boys' Singles made seventeen-year-old Jimmy the 'world number one' junior tennis player in 1957. Roger Federer (Switzerland) 1998, Stefan Edberg (Sweden) 1983, Pat Cash (Australia) 1982, Ivan Lendl (Czechoslovakia) 1978, and Bjorn Borg (Sweden) 1972, also won the Boys' Singles Championship at Wimbledon at the start of their careers.
Jimmy Tattersall was born in 1940 and became a prominent member of Duffield Lawn Tennis Club and a well-known figure in county tennis. He represented Derbyshire in county matches on 86 occasions.
In 1957 when aged only 17 he was a member of the Duffield first team. Imagine then the club's pride when he entered and won the Boys Singles Championships at Wimbledon in that same year. In the final he defeated I. Ribero of Brazil by the comfortable margin of 6-2, 6-1.Nor was that his only Wimbledon triumph in 1957, for he was also victorious in the Boys' Doubles final.
At the previous year's Wimbledon in 1956 he had already won the Boys' Doubles when aged only 16. And that same year he had completed a magnificent double by emerging a winner in the Junior Mixed Doubles tournament. This he had achieved with Honor Durose, who was also a member of Duffield Tennis Club.
So why did Jimmy Tattersall not follow the other names on the list by going on to achieve great things in senior tennis? Tattersall went on to University and forged a career in industry, possibly ending his working life with National Power. Tennis for him was a hobby rather than a profession. Quite simply a living had to be earned - and his tennis, good as it was, couldn't provide it.
Later in life he had a particularly strong relationship with the University of Bradford, and a 1997 edition of their staff magazine said this of him: "Jimmy Tattersall was an inspirational speaker, and one who everybody admired. And we were always surprised to hear that he had a secret former life. Little did we know that at the age of 17 he had been ranked 'world number one' at junior tennis."
Jimmy Tattersall lived the latter period of his life at Evesham, Worcestershire, and remained a keen sportsman until he died there on 4 February 1997, aged only 57.
(Extract from Bygone Derbyshire, Derby Evening Telegraph, January 2010)