Code of conduct/Safeguarding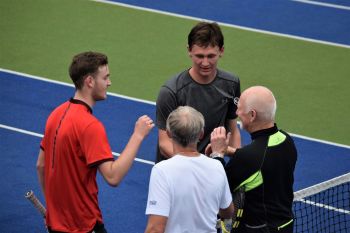 Duffield Lawn Tennis Club is fully committed to safeguarding and promoting the well-being of all its members and believes that it is important that members, coaches, administrators and parents/guardians should, at all times, show respect and understanding for the safety and welfare of others.
Abusive language and unacceptable behaviour on the Club premises and courts is not allowed. Such behaviour will result in the offender being banned from club activities and in extreme cases or repeated incidents, their membership of the Club will be rescinded.
Members are encouraged to be open at all times and to share any concerns or complaints that they may have with our Welfare Officer, Chantelle Stamp, 07852714920. Our LTA-approved Safeguarding Policy is also available.
---
As a member of Duffield Lawn Tennis Club you are expected to abide by the following code of practice and bylaws:
All members must:
Play within the rules and respect officials and their decisions.

Respect the rights, dignity and worth of all participants regardless of age, gender, ability, race, cultural background, religious beliefs or sexual identity.

Use the courts in line with the priorities set by the General Committee and advertised to members (see court usage and etiquette).

Only use the floodlights in accordance with planning permission conditions, with switch-off times of 10pm, except during May June and July when this period is extended to 10.30pm for the completion of matches.

Keep to agreed timings for training and competitions, or inform their coach or team captain if they are going to be late.

Wear suitable kit for training and match sessions.

Pay any fees for training or events promptly.
Members bringing their children to the courts must keep them in order and prevent any annoyance to other players.
Dogs, except guide dogs for the blind, are not allowed on Club premises or court areas.
---
Junior members:
Are not allowed to smoke on the premises or whilst representing their team at competitions

Are not allowed to consume alcohol or drugs of any kind on the premises or whilst

representing their team

Those below the age of 12 should be accompanied inside the clubhouse by an adult.
---
Parents and guardians should:
Encourage their child to learn the rules of tennis and play within them.

Discourage unfair play and arguing with officials.

Help their child to recognise good performance, not just results.

Never force their child to take part in sport.

Set a good example by recognising fair play and applauding the good performances of all.

Never punish or belittle a child for losing or making mistakes during tennis.

Publicly accept judgements made by officials.

Support their child's involvement and help them to enjoy their sport.

Use correct and proper language at all times.

Allow their child to play in the Mini Tennis colour stage that is appropriate to them. This will ensure they enjoy playing the game, develop their skills and gain confidence.

Purchase balls and rackets that match the stage their child is in.

Be patient. Steady progression is unusual in children; peaks and plateaux are common.

Parents' first question following any match should be: 'Did you enjoy it?' not 'Did you win?'

At no stage should parents communicate with their child or interfere with the on-court helpers and referees during a match – just enjoy the game and let officials take care of the rules!
Save
Save